BEST COLLECTION OF DOLCE VITA IN EUROPE ONLY BY KULBACKI

BY US BREEDING ONLY CHAMPIONS AND ORIGINAL PIGEONS

Dolce Vita i jej matka zostaly sprzedane za 500.000 € do Chin!

Dolce Vita, najlepsza samica rozplodowa i lotowa na swiecie!

KULBACKI, jedyna Hodowla w Europie z najlepszymi rozplodowcami z rodziny ,DOLCE VITA
Mamy, Najlepszego Brata Dolce Vita w rozplodzie, Dolce Still Novo

Najlepszego Syna w Rozplodzie , Dolce Vita Boy

Brata matki 250.000€ od Dolce Vita, RAMBO

1/2 Siostra Dolce Vita, super rozplodowa samica w Europie

Corka najlepszego lotnika ROLEXA, daughter of Rolex

Corka Olympia, Golden Blue x Olympic hanne, najlepsze lotniki w Europie!

BEST OF THE BEST; TYLKO U KULBACKICH

Kontakt: tel. 0049-1511-290-1511
FILM:

ANDREAS KULBACKI (GERMANY) & PIETER VEENSTRA (NETHERLANDS), Pigeons of the 21 century

http://www.youtube.com/watch?v=CDizBNhD02E&hd=1


THE BEST PIGEONS OF VEENSTRA BY KULBACKI IN GERMANY

wyniki

https://www.youtube.com/watch?v=j3OR6jny4uA&hd=1


DOLCE STILL NOVO, owner Mr.Kulbacki (Germany)

tel.0049-1511-290-1511
Dolce Still Novo , is the BEST brother of Dolce Vita , 250.000 €uro (China)

6x1. konkurs the best hen in the World ,
5 Children are National &
International Champions in middle and long distance
Mr. Kulbacki have the biggest collection of Dolce Vita Family


https://www.youtube.com/watch?v=hkCLmXk-pLU&hd=1

Daughter of our Dolce Still Novo win 4. price Orleans NPO against 7160 pigeons


https://www.youtube.com/watch?v=v97SLgsruxg&hd=1



DOLCE VITAS BOY -PUREBRED- MOTHER 250000€URO GRANDMOTHER 250000€URO


https://www.youtube.com/watch?v=6z0S0TXzU3s&hd=1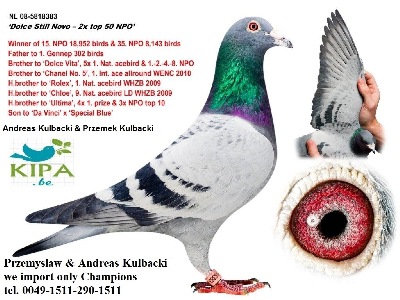 Da Vinci 130000€uro x Special Blue 250400 €uro, our Dolce Stil Novo is a brother DOLCE VITA 250400 €uro!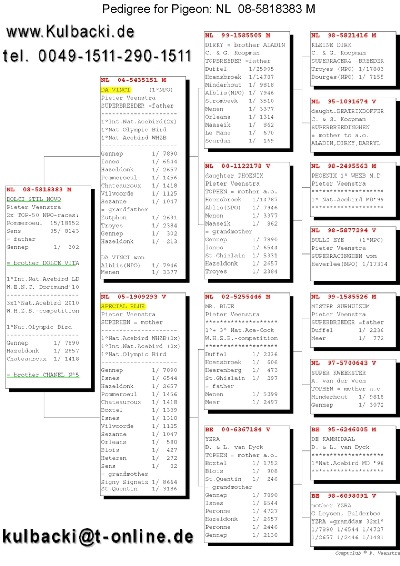 Da Vinci (130000 €uro) x daughter Mr.Blue (sister of Mother DOLCE VITA 250400€uro)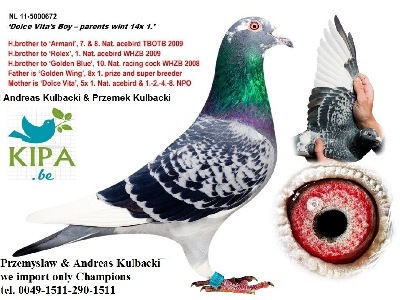 Golden Wing 8x1.kon (90000€uro) x Dolce Vita 6x1. kon. (250400 €uro)

Father Mr.Blue (130000 €uro) x YZRA , blue Rambo is full brother to Special Blue (250400 €uro),Special Blue is the mother of Dolce Vita 250400 €uro!

GOLDEN BLUE (50000 €URO)x OLYMPIC HANNE (12800 €URO)

ROLEX (ROLEX 70400 €URO) x DAUGHTER DIRKY (18400 €URO)